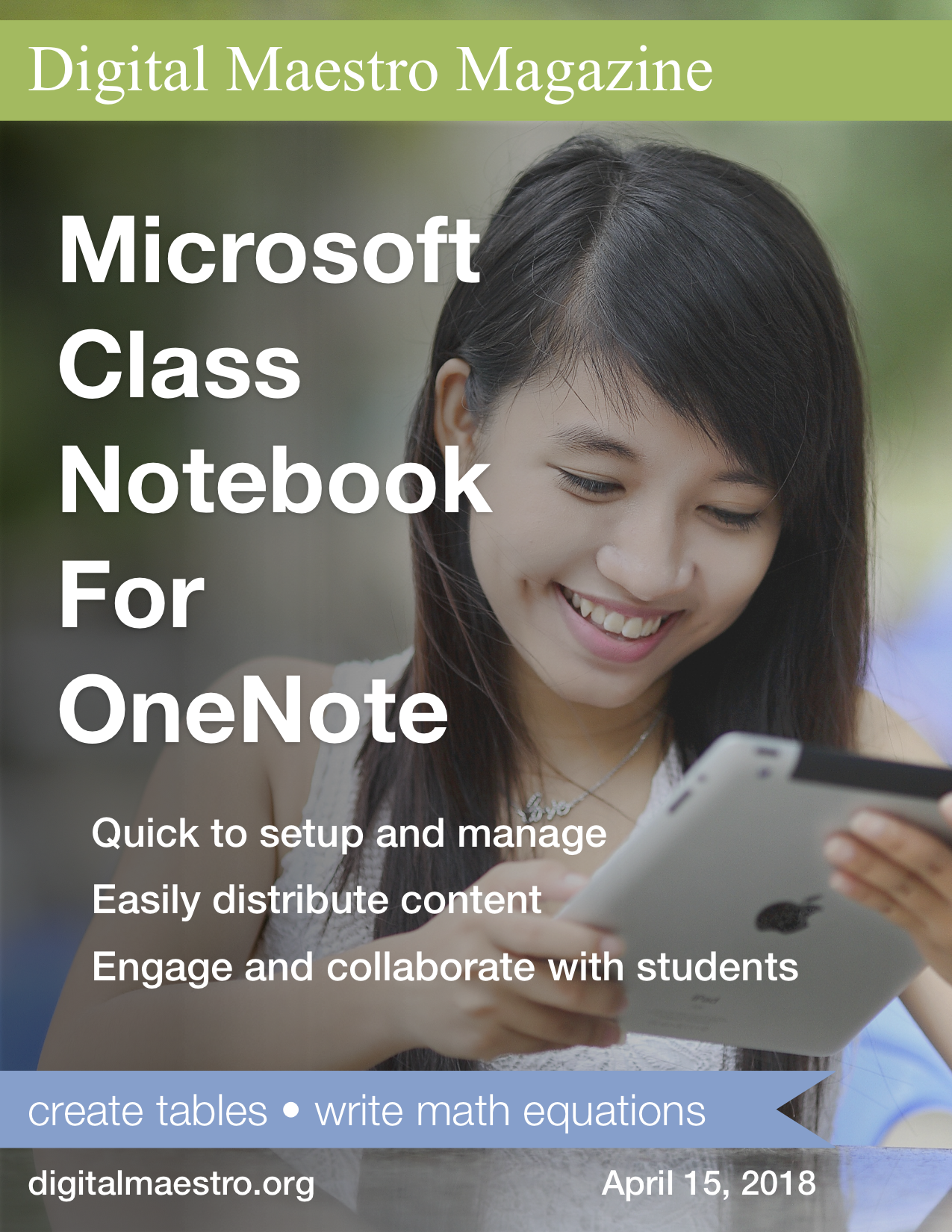 Microsoft Class Notebook for OneNote
Use Microsoft Class Notebook with OneNote to distribute and collect content. Manage student content. Engage and collaborate with students
OneNote Class Notebook
In the April 15th, issue I demonstrate how to setup OneNote notebooks for students using Class Notebook by Microsoft. I demonstrate how to modify, create, and edit sections for student notebooks. We take a look at how to create some basic content in OneNote.
OneNote Class Notebook is a service from Microsoft Office 365. It helps teachers create and distribute digital notebooks to students using OneNote. Through OneNote, we can distribute and collect assignments using a familiar notebook format. The app is available for a variety of devices. It is also available as a cloud service at https://www.onenote.com.
Class Notebook Requirements
Class Notebook is part of the Office 365 Education plan. This plan must be purchased for the educational institution from Microsoft. Teacher and student accounts are managed through Microsoft at the district level. Class Notebook is part of Microsoft's cloud service. All we need is a browser with Internet access. The service works best with Microsoft Edge, Firefox, and Chrome browsers.
OneNote is available for Windows, Mac, iOS, and Android devices. The app for iOS and Android devices do not have the full set of features available on Windows or Mac. But, the basic set of features is good for the creation of most content.
On mobile apps, we are able to use the camera to add photos. We can use the microphone to record audio and embed it in pages. We can use a stylus to hand write notes. OneNote includes handwriting recognition. Handwriting is convertible to editable text. The conversion includes math equations and symbols. Very convenient for math and science students. We can insert images and use the drawing tools to annotate the images.
Creating and distributing notebooks
The interface is very easy to use. Notebooks are easy to create and distribute with a few clicks. We can enroll students in notebooks during the creation process. Notebooks include sections to easily organize common school work assignments and activities. We are able to change and add sections as needed during the creation process. We can add or change sections after notebooks have been distributed.
Enrolling students one at a time during the creation process can be tedious. During this process, we need to provide the email address for each student. This can be a tedious process in a large class. Students can enroll themselves with a link. Class Notebook provides a link at the end of the process. We share this link with students so they are able to enroll themselves.
I recommend using a URL shortener like TinyURL or bit.ly. These shorteners help create links that are human-friendly. For example, we can shorten a very long link using https://bit.ly. A shorter link would look something like this, https://bit.ly/anatomyNotebook. That is much easier to enter into a browser address bar.
We are able to invite other teachers to help distribute and manage content. Invited teachers have the same access as the teacher that created the notebooks. These teachers can invite other teachers. Invited teachers do not have access to delete notebooks created by the original teacher.
We can create as many notebooks as needed. Separate notebooks help compartmentalize subjects. Separate notebooks make it easier to manage student content across subjects. This is useful for those of us that teach several classes of the same content throughout the day. It is also a useful way for self-contained teachers to organize subjects.
OneNote for teachers and students
We use OneNote to access the created notebooks. All content is created and managed in OneNote. We enter our district account information to log into OneNote. This is usually done the first time OneNote is started. OneNote works with more than one account. We can add a personal account in the settings section of the application. This is how we add our education account if OneNote is currently being used for a personal account.
Sections are used to organize information in notebooks. Sections are a great way to organize content for students. Homework and quiz sections are automatically created during the process. Creating extra sections is useful when organizing distributed content for students. We can create sections in all student notebooks at once or per student. The tools to do this are available in OneNote and in Class Notebook Manager online.
Some sections are part of all notebooks and help with distribution of assignments. The Content section is editable by teachers only but viewable by all students. We are able to create more sections within this section. They are useful when organizing content for distribution. This section provides a consistent resource portal for all students. I create sections to organize assignments by week. Within each section, I create pages with instructions, information, and resources. I dedicate one page for each day.
A collaboration section is available in all teacher and student notebooks. This section is viewable and editable by all students. Students use this section to collaborate on projects. Use this section to collaborate with students and track their work. We control access to this section through the manage notebooks portal. The option is also available through OneNote. We can limit access to this section. We can open it for some students or we can close it for all students. Access to this section is open for all student after the notebooks are created.
Students can only view and edit content in their own notebook. The content section is available to all students as view only. The collaboration section is the only place where students can view and edit each other's work.
We as teachers have access to all student class notebooks and content created within those notebooks. We can make notes and provide feedback on assignments. The drawing tools are a great way to provide feedback. This works especially well when using a mobile device and stylus. With the drawing tool, we can highlight text and provide audible narration using the record audio feature. We can use the stylus to handwrite notes and illustrate feedback.
Creating content and assignments for students is very easy. OneNote integrates with one drive to provide access to any content stored there. We are able to insert Microsoft office documents like Word, Excel, and PowerPoint. We can also insert portable document format, PDF files. We can paste links to external resources like web pages and video.
We can create assignments and content using mobile devices like smartphones and tablets. We can send sections and individual pages to students. This option is part of the contextual menu for a section or page. The section or page is copied to the corresponding section in the students' notebook. Pages are always part of sections. Students will receive the content and assignments almost instantaneously. In the same way, we are able to monitor and provide feedback on assignments.
OneNote is very useful with blended learning, and flipped classroom.
OneNote without class Notebook management
You don't need to have Class Notebook to use OneNote. Students can create their own OneNote notebooks and all the sections they need. But, you won't be able to view their notebooks without their permission. Students can share sections of their notebook with teachers. Teachers can share sections with students. This process takes longer. So, OneNote can be used in the classroom with students but the management process for assignments is difficult.
The paperless classroom
My district recently audited the amount of money spent on toner and printing. We were spending over 3 million dollars a year on toner and printer maintenance. I'm sure the paper expense was somewhere around this value too.
OneNote is one option we can use to reduce the amount of paper used in the classroom. Think of what you can do with over 3 million dollars in your district.
Use Office 365 to create and distribute documents, spreadsheets, and presentations. Scan existing documents and serve them to students as PDF documents. Use the drawing tools to markup any of these document formats. I like doing things this way because it really saves me time and effort. I can make changes to documents at any time. Copies distributed to students are updated almost immediately.
Professional development
OneNote is a very useful application for teachers when teaching. It is also useful as a professional development platform. Instructional specialists use it to deliver training resources during professional development. This eliminates the need for printed material.
Teachers always have access to the latest training materials and receive live updates. We have a portal to collaborate and share content. Personal notebooks help us take important notes during meetings. I see teachers taking pictures with their tablets and annotating content.