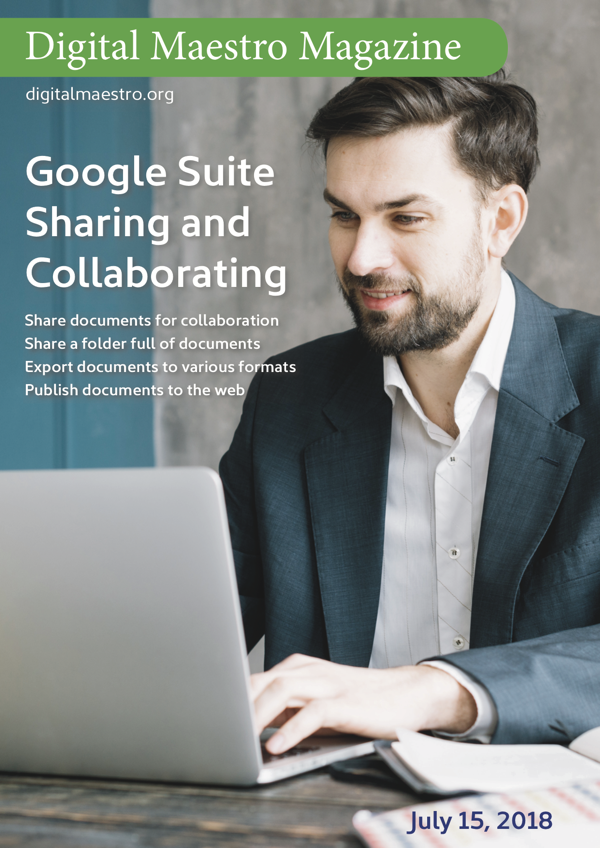 Google Suite Sharing and Collaborating
Share and collaborate on content with G Suite. Share documents and folders. Publish content in a variety of formats.
Share and collaborate on documents
In the July 15, 2018 issue of Digital Maestro Magazine, I cover the various options for sharing and collaborating on Google documents. This includes Docs for word processing. The word processor is quite capable of handling many of the common writing tasks. Some features are not as robust as those from Microsoft Word. Docs really shine when it comes to sharing and collaboration.
Google has a presentation tool called Slides. It has a lot of great features. It easily handles most presentation duties. Animations and transitions are not as robust as those from Microsoft PowerPoint. It is easy to use and build content. It's easy to insert images and video from the Internet. Sharing and distributing presentations is simple and convenient.
A spreadsheet application is available through Google. It has a rich set of features. Most of the features are similar to those in Excel. There is a lot of flexibility when sharing and collaborating on Sheets. Publishing sheets have a variety of options. Sheets is useful as a dashboard for delivering graphic representations of data.
I will explore ways to share documents for collaboration. This includes giving other users edit access. Edit access allows others to freely add and modify content.
Another way to collaborate is to provide accounts view and comment permission. Account users are free to leave comments on areas of the document. This includes words, sentences, and paragraphs. Users may replace or append text in their view. Editors see these recommendations and decide to accept or reject them.
There are plenty of ways to share documents. The most common way is to share with view-only access. View access allows anyone to see the contents of a document only. This is useful when distributing content digitally. A special link for sharing with view access for everyone is available. This link is useful when there is a need to share with lots of people.
Sharing isn't limited to online viewing or editing. There is a way to generate links that allow accounts to make their own copy of a document. This copy is sent to their Google Drive account. There are ways to generate special links that download a copy of documents. The copy is downloadable in a variety of formats. Download formats include Word, Excel, PowerPoint, and PDF.
Shared documents with view access open with the menu options for that document format. There is a way to generate a view of documents without displaying the menu. We provide a preview or published version that removes the menu.
I use all these options at one time or another during presentations, training, and professional development. My audience isn't aware of how the documents are formatted. They just appreciate that it works.