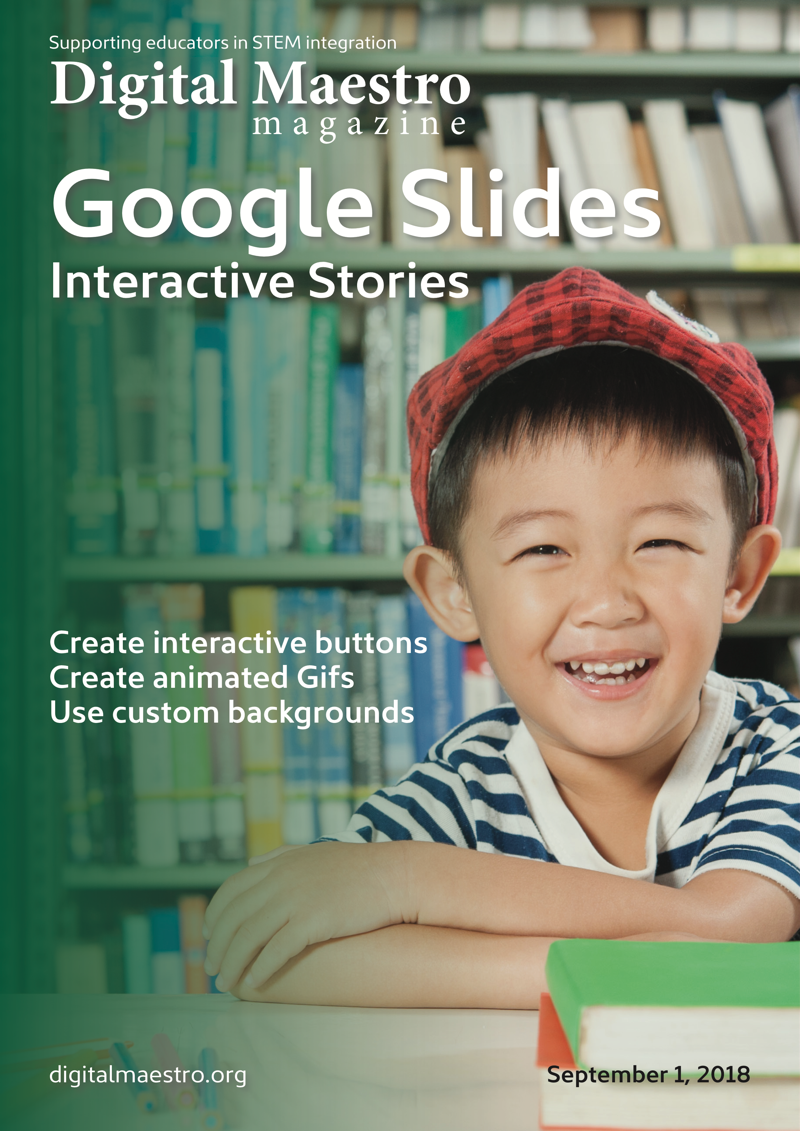 Interactive Stories
Google Slides is useful for more than presentations. Slides include a variety of options that are useful for creating interactive slides. Shapes like rounded rectangles are used for navigation buttons. Speech bubbles in the shapes palette are used for conversations between characters. Add backgrounds on slides to enhance the story with more visual interest. Use Google Drawings to create custom backgrounds. Include voice-over narration with embedded video. Use slide animations and transitions to enhance the story. Create your own animated Gifs with free Chrome browser applications.
Google Slides
There are many similarities between Google Slides, PowerPoint, and Keynote. There are several advanced features in PowerPoint and Keynote that are not yet available in Google Slides. One feature that is available in Google Slides, which is also available in PowerPoint and Keynote, makes it a good application for creating interactive slides and stories. This feature allows us to create links to slides. We will use this feature to develop parts of our interactive story.
I will be taking a different spin on the tale of the "Three Little Pigs". The focus is not on the story but on the skills. What you learn here can be applied to other interactive presentations. Interactive slides can be used with research topics in content areas like science, math, history, and social studies.
I've found that fewer tools and options are often better. Students often spend a great deal of time testing different transitions and animations when they use PowerPoint and Keynote. This interferes with creating and finishing their product on time.
Why Google Slides?
There are several reasons why I like Google Slides for interactive stories. We can add images and video from the Internet and YouTube with ease. Slides tap into the power of Google search to find the right image. It also taps into YouTube and the billions of videos in its library. Google Slides and Google Chrome work together to provide a variety of tools that can be installed through the Chrome Web Store. Many of these applications and extensions can be used to create and add media content to slides.
Slides are saved in the Google Cloud and can be accessed anywhere on most devices. Google Slides, like most Google applications, can be shared with others and used in collaborative environments. This provides opportunities for students to work on one slideshow at the same time using separate computers or devices. Google Slides is available as an app for a variety of devices like smartphones and tablets.
Story Telling with Google Slides
Storyboarding with images and illustrations makes it easy for students to develop stories with rich media before, during, and after the writing process. Storyboarding with Google Slides is easy because we can access and insert a variety of images from the Internet.
During the first part of the lesson, we will learn how to layout a storyboard with images. This part can be done with students in an "I do, we do, you do" format. Teachers can also set the initial story starter and distribute it to students through a learning management system or Google Classroom.
The interactive part of the story will take place when we get to a point where I feel students need to take over and finish the story with their own perspective on what happens in the rest of the story. The point where students take over depends on the concepts we want the students to learn and apply.
The images inserted through Google Slides do not violate copyright law because the search through Google Slides filters for images in the public domain or Creative Commons.