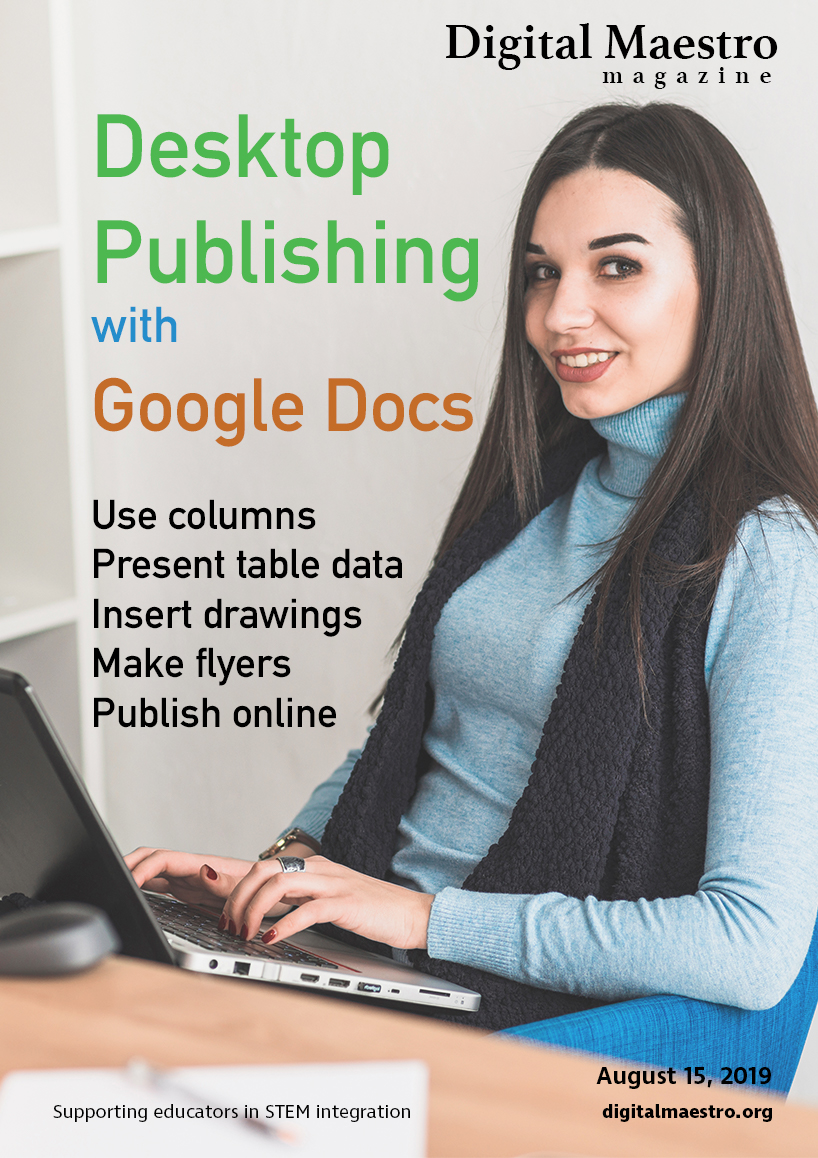 Desktop Publishing with Google Docs
Google Docs and desktop publishing
Google Docs has evolved from a simple word processor. It can now handle basic desktop publishing tasks. It doesn't have a range of graphic tools like Microsoft Publisher or Indesign. But, we can create some basic publications. We will be creating a report with images and columns. We will also create a flyer.
We want students to write, but writing can be bland for most students. Desktop publishing provides a way to add more interest. Desktop publishing incorporates images and color. We want to use desktop publishing skills with student work. It taps into other modes of learning.
I encourage you, as always, to go through the lessons and understand the process. Desktop publishing provides a variety of useful skills. As always, my lessons have detailed instructions with plenty of images.
The product created here is not necessarily meant to be printed. The goal is to publish our document online. Live documents allow teachers to provide input and get feedback. I encourage you to post finished student products. Parents love to see what their children are doing. Google Sites is ideal for publishing student work.
Our products
Our product will have images and content in column format. Google Doc's recent updates provide the option for creating columns in documents. I want to explore this option for some interesting results not possible before.
In the lessons, you will learn how to use paragraph styles to format text. These paragraph styles are essential for the creation of our table of contents. You will learn how to properly format paragraphs with paragraph styles. These are essential skills for college and career readiness.
The lesson will include the creation of tables and charts. Understanding how tables and charts works is another one of those essential skills. These skills are necessary for assessments. They are also important for college and career readiness.
We are working on a multipage report. The report is on the solar system and the eight planets. Sorry, Pluto. The report will have a cover page with a student-created cover. The cover image will come from Google Drawing. The second page in the report has our table of contents. The table of contents is created with the help of paragraph styles.
The page after our table of contents has an overview of the solar system. This page includes the main image, table, and one additional image. Each additional pages will be dedicated to one planet.
The information on each page is separated into a section. The section for each planet is limited to two pages of information. Separating the planets into sections is a good way to organize the report. It is also a good way to organize the report for student collaboration.
Working collaboratively on a document doesn't always work very well. The document tends to jump around as students work. They forget where they are and often work on different sections. I have found it better to allow one student at a time to work on their part of the project. Like a round-robin. Each student takes a turn working on the document.
This process works best when students use another Google Doc. They collect and edit their content first. This doesn't include images. Images are added later. My students spend too much time gathering images.
Teachers work with students on editing the content for the final product. The content is then copied and pasted into their section on the group product.
Student reports
The first and most important step in the process is the creation of our Google Document. It goes beyond the creation of the document itself. A big part of desktop publishing is the formatting of the document before we begin. We need to decide on the page size and the margins.
Page sized is tied to printed paper sizes. In the United States, this tends to be 8.5 by 11. Other parts of the world use A4. I prefer the A4 format. Just because I love the mathematical basis for A4.
The paper size doesn't matter because it is not our intent to print the publication but to share it online. I will use the standard page size for my country and stick to 8.5 by 11. Apart from the page size, all the rest of the steps are independent of the page size we select.
I am talking about standard paper types like Letter, Legal and A4. Other sizes like tabloid are very large and may not work for our lesson.